THE ESSENCE OF

BUDDHIST ART
The earliest depictions of the Buddha reach back to the 1st century B.C.E. and started to emerge in Northern India. The motives have never really changed since that time. They mostly show one of the most important aspects in the life of Siddhartha Gautama, which is the outcome of him reaching spiritual enlightenment and becoming known as the "The Enlightened One".
We often see the Buddha in a state of inner peace, having his eyes closed and holding his hands in specific gestures. The essence of buddhist art is a direct translation of its central spiritual message: which is to be touched and inspired by the life and experience of the Buddha and to be motivated to follow him on the path to enlightenment through the practice of intense meditation.
TRADITION & MODERNITY COMBINED
As traditional we like to keep our carving and shaping techniques, as modern and experimental we want to be when it comes to the topic of finishing procedures. In our opinion, a washed out antique look can be as beautiful as a glossy and colorful appearance. Especially with artwork that developed over a huge period of time. We are also keen on expanding our special effects, in which we like to burn chemically processed surfaces to alter the final result. Our base material focusses on a mixture of cement and fiber, with the aim of finding the right balance between stability and weight.
THIS IS WHAT WE STAND WITH OUR NAME FOR: TRULY 100% HANDYCRAFT
Carving, shaping, screwing, polishing, painting – and this is only a fraction of what the human hand is able to do. The capability range of this genius tool is unreached, whether in nature nor in human technology. And still, every hand is part of an individual person and therefor every person is doing a task in a slightly different way, which is the essence of hand crafted products.
This is why the term handicraft is still a value on its own when it comes to the creation of decorative products. The diversity of actions an experienced human hand can perform and the organic little imperfections that come as a result of its uniqueness is the receipt that turns our production into art. And believe us when we say that we appreciate every helping hand in the process.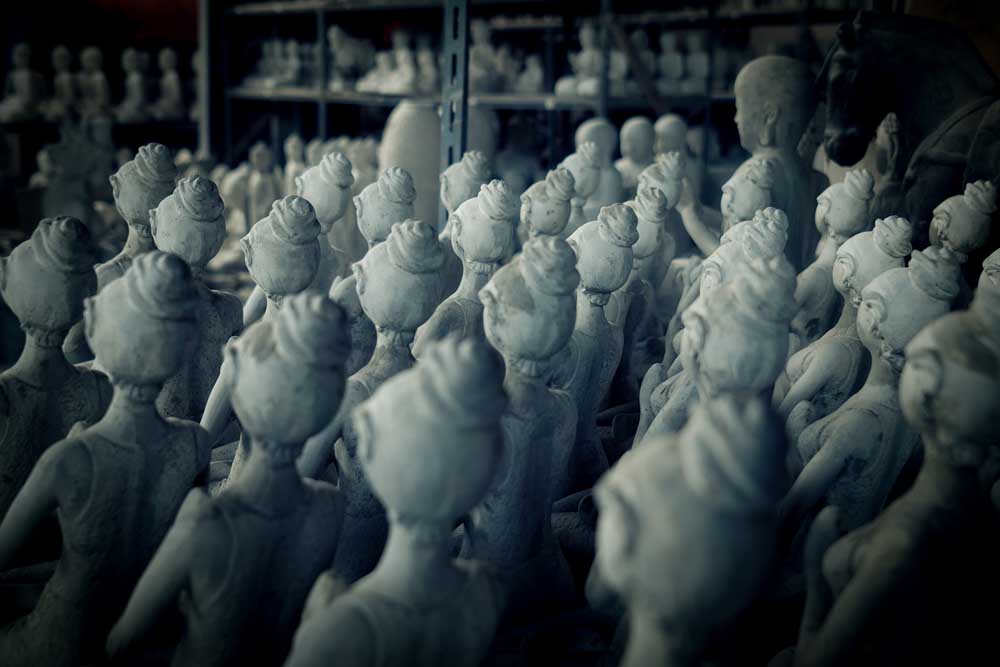 WE ARE PROUDLY LOOKING BACK ON ALMOST TWO DECADES OF PRODUCTION, WHICH TRANSLATES INTO HUNDRED THOUSANDS OF INDIVIDUAL ITEMS AND THOUSANDS OF CONTAINER LOADS SENT OUT INTO EVERY CORNER OF THE WORLD.
THEREFOR WE REGARD OUR EXPERIENCE AS A MANUFACTURER AS ONE OF OUR MOST VALUABLE ASSETS, WHICH LED US INTO HEALTHY CUSTOMER RELATIONS THAT LASTED FOR AS LONG AS OUR COMPANY EXISTS.
Buddha statues have always been associated with inner peace and enlightenment. People commonly use them to set up a meditation area, but they can also help to add tranquility to a busy living room. The positive energetic vibes created by the presence of such idols can help individuals to feel free and energetic throughout the day.
In many asian countries Buddha statues are part of the culture and often used for ceremonial purposes. In western countries you will find many people who are in appreciation of the Buddha's teachings, even if they are not particularly religious. Many converts begin their religious practices by buying a Buddha statue to be more motivated and stringent.